Details

Category: САВЕТИ И ОПИСИ
Published on Sunday, 11 January 2009 02:13
Hits: 29461
Sređivanje poliesterskog čamca uključuje dosta radova koje čak i laik može zadovoljavajuće odraditi i uštediti poneki dinar.
Naravno, želim da se ogradim odmah na početku, ako ste vlasnik iole većeg i skupljeg plovila, moj savet vam je da se manete ćorava posla i platite majstora!
Ako je vaš čamac star, jeftin i neugledan,želite da mu vratite nešto od starog sjaja, a volite da sami raduckate oko njega i nemate baš "dve leve", možete i sami da se prihvatite posla.
Evo mojih iskustava

Kad sam prvi put ugledao moj čamac, to je izgledalo ovako. Čovek mi je poslao ovu sliku MMS-om i tako sam postao plovan!....
Čamac je vožen takav jednu sezonu, pa sam utvrdio da je završni premaz trupa tzv. gel-coat, dosta oštećen, i da čamac zbog toga bukvalno pije vodu! Bilo je i više oštećenja na podu čamca, a sam lak je bio potpuno matiran i propao
Prvo je krenuo onaj "zanimljivi" deo posla, a to je šmirglanje! Uzmete lepo pa krenete od jednog kraja i onda redom...
Koristi se vodena šmirgla, zavisno od stanja gel-coata, možete početi i sa nekom baš grubom ( 80 ili 100), ali 120 je sasvim ok. Napreduje se malo sporije, ali zato nećete negde preterati. Nabavka neke od onih jeftinih šlajferica će vam uštedeti vreme i dosta znoja, pa vam to toplo preporučujem.   

Kad naletite na oštećenje, prvo ga očistite dok ne dođete do "zdravog" sloja ( mora biti čvrsto, ne sme da se kruni ili uvija pod pritiskom), zatim sledi gitovanje ( ili u slučaju težeg oštećenja laminiranje, ali o tome više posle). Gitovi koje sam koristio su od proizvođača HB Body i imate ih u svakoj farbari.To su dvokomponentni gitovi u raznim stepenima finoće. Za zatvaranje oštećenja je najbolje početi sa Body-fiberom. Budite oprezni prilikom mešanja gita i učvršćivača. Previše učvršćivača dovodi do toga da se git stvrdne pre nego što uspete da ga nanesete, zato uvek pravite manje količine smese, barem dok ne uđete u štos.
Naneseni git mora da se osuši i otvrdne, a onda opet sledi šmirglanje dok se gitovana površina ne uglača i ne izjednači sa okolnom površinom.
Tada se nanosi "beli" fini git, koji praktično služi da se površina finišira za farbanje. Naravno, nakon toga ide opet šmirglanje, ovaj put se prelazi na finu šmirglu od 500 do 1000 i time se završavaju radovi na trupu - do farbanja.

Pod čamca se obrađuje na sličan način, s tim što sam ja na podu našao par većih oštećenja koja su zahtevala laminiranje. Koristio sam  Poliester kit, koji se sastoji od 0,6m2 laminata i 1kg poliesterske smole sa učvršćivačem. Kvalitet je sasvim OK, ipak za neku veću popravku, pogotovo na trupu, uzeo bih epoxy smolu. Epoxy ne pije vodu, pa je zato dosta otporniji i trajniji od poliestera.
Laminat isečete na potrebne dimenzije i zatim ga sloj po sloj postavljate i natapate smolom. sledi ponavljanje postupka gitovanja i šmirglanje popravljene površine
 Uz taj čamac, dobio sam i pentu Johnson 25ks commercial, sa dugom čizmom, a ovo gliserče zahteva motore sa kratkom čizmom.
Posle uzaludnih pokušaja da zamenim motor za neki sličan sa kratkom čizmom, rešio am da nadogradim zrcalnu dasku na potrebnu visinu.
Upotrebio sam jelovu dasku koju samo dodatno ojačao sa kaljenim nerđajućim flahom od 5 mm. Preko daske sam zatim laminirao dok nisam dobio potrebnu debljinu. Pritom sam i postojeće zrcalo očistio i novo laminirao  
Želim da napomenem da su ovi pripremni radovi trajali skoro 3 meseca, radilo se samo u večernjim satima i po par sati vikendom.Želim ovde i da se zahvalim mom "starom" koji se takođe angažovao oko šmirglanja i mom "paši" Strahinji koji je kao " stručna osoba" odradio najveći deo posla. Naime, on je nekada ranije nekom prilikom zakrpao neki plastični branik i ofarbao ponešto kompresorom, pa je zbog toga zaslužio titulu "stručnjaka". Ja sam kao šegrt slušao instrukcije.
Usledilo je farbanje. Napominjem da je od početka ove akcije, moj cilj bio da dobijem kvalitativno i vizuelno što bolji rezultat za što manje pare, zato je u izboru materijala najčešće presudnu ulogu odigrala cena.
Koristio sam "Zorkine" Maestral farbe za čamce. Boljih farbi ima koliko hoćete - jeftinijih nema! Ipak, ja sam sasvim zadovoljan krajnjim rezultatom.
To su dvo-komponentni lakovi i prajmeri , koji zahtevaju i specijalni razređivač. Za nabavku vam zato preporučujem da posetite neku veću farbaru ili Merkur. Manje farbare ili nemaju baš onu boju koja vama treba ili je istoj prošao rok pre 2 godine- a to nikako ne uzimajte!
Inače, prvobitno smo hteli da čamac bude žut sa nekim plavim linijama na bokovima, ali .... žute ni za lek! Čak ni u fabrici u Šapcu!
Tako je postao beo , a ostalo ćemo da odradimo folijama u boji.(Obećavam slike od te akcije čim je sprovedemo u delo) .
Za farbanje vam je potreban kao prvo zatvoren prostor, bez vetra i vlage, zatim kompresor koji može da u kontinuitetu drži pritisak od barem 5-6 bara (profi očekuje barem 8 bara). Šta reći, raga od kompresora koju smo mi imali na raspolaganju nije mogla da drži ni 4 bara duže od minuta, pa je lađa ipak ofarbana ( potrebno je samo malo više strpljenja). Samo farbanje pištoljem nije toliko strašno, ali obavezno prvo istrenirajte ruku na nečemu što vam nije drago i milo. Nakon toliko šmirglanja je stvarno glupo da vam ostanu tragovi "suza" na laku. Moj "pašo" se prvo istrenirao na svojoj ogradi
Tako, farbanje kreće demontažom svih delova koji ne trebaju biti ofarbani, ako nešto ne želite da demontirate, žuta molerska traka i stare novine su idealne za oblaganje svih delova koji ne trebaju biti ofarbani. Površina koja se farba mora biti oprana i osušena, kako bi se uklonila sva fina prašina koja je ostala nakon šmirglanja. Ako farbate u istoj prostoriji u kojoj ste pripremali čamac, onda je dobro očistite od prašine i pre farbanja je polijte vodom.
Kreće se sa  nanošenjem prajmera i tu nemojte štedeti, prođite barem sa dva-tri sloja, između svakog sloja farba mora da se suši barem 1 dan.  
Nakon toga dolazi lak, takođe najmanje u dva sloja i po potrebi se na onaj deo trupa koji je pod vodom nanosi antialgin. Ako čamac ne držite u vodi cele sezone, troškove za antialgin možete uštedeti, dovoljno je kratko pranje nakon svakih par vožnji.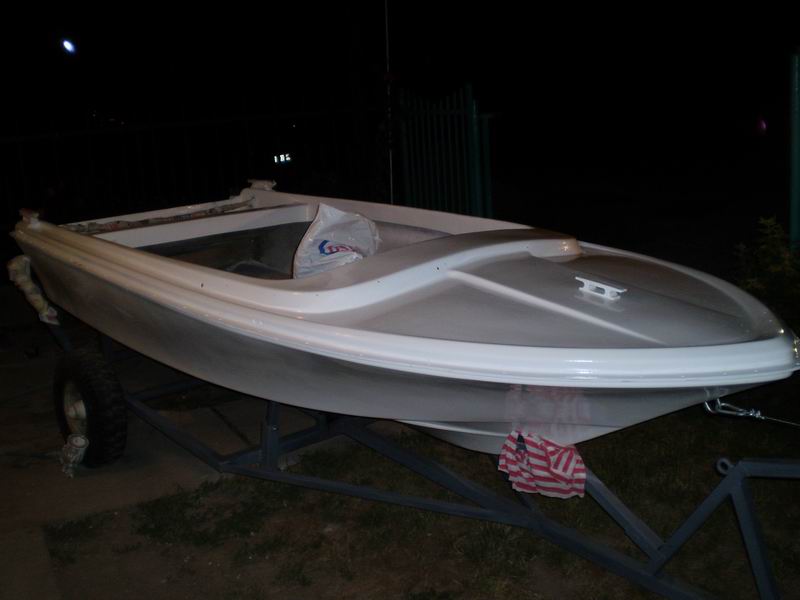 Ovde je ovoj priči kraj, usledilo je montiranje svih delova nazad na čamac i to je bilo to! Nazad na vodu!
Evo još par slika sa prve vožnje.....
TEMA NA FORUMU : http://www.mojaladja.com/forum/index.php?topic=53.0