Sviđa Vam se vest ? Objavite je na nekim od servisa ispod...
Details

Category: САВЕТИ И ОПИСИ
Published on Tuesday, 20 January 2009 15:59
Hits: 10108
Sta vam je potrebno da bi ste jedrili?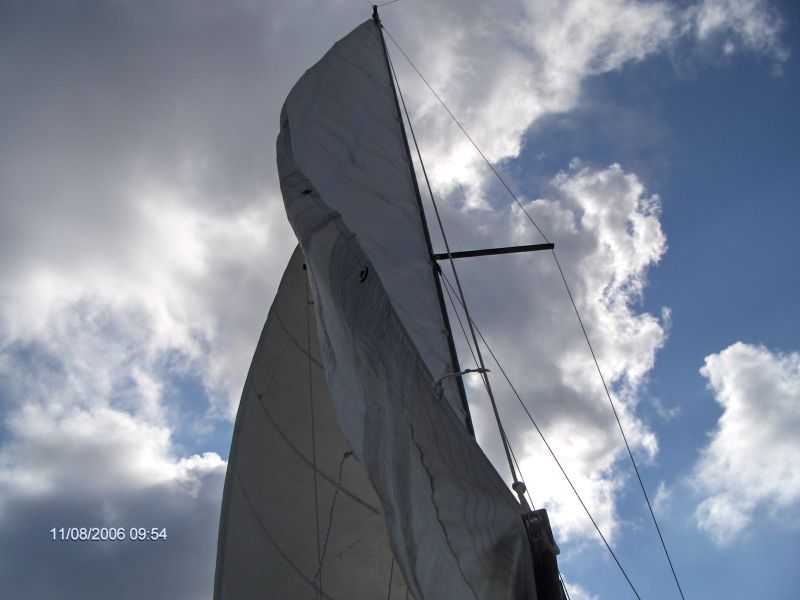 vetar...to je Ok, cesto ga ima u izobilju (nikad kad vam je potreban)...
brod...to cete kupiti, iznajmiti, pozajmiti (tesko), ni to nije problem
iskustvo...stice se godinama, svi mi jos uvek ucimo
znanje...e to je ono sto mozete i treba da uradite pre svega...
ljudi kad cuju, vetar,prividan vetar, konopi, jedra, pa jos tehnika jedrenja, bum, genoa, orca...kad vide ljude koji trce sa jednog kraja krstasa na drugi, nesto zatezu, mrse vrlo lako pomisle: ma lakse meni kljuc u kontakt bravu, imam ler, napred, nazad i to je sve sto mi treba da bih plovio...nazalost, propustaju jedno fantasticno iskustvo, osecaj kada prestane buka, vibracije, kada se krma "odlepi" od vode, jedinstven osecaj slobode i spoja sa prirodom. Sve je to vrlo jednostavno, nista komplikovanije nego izracunati logaritam od kubnog korena broja 365892658,2569856
...ma prosto, samo dok se upoznaju
OSNOVNI POJMOVI I ZABLUDE JEDRENJA

Vecina ljudi veruje da se jedri tako sto vetar gura brod...potpuno pogresno, jedno od najlepsih jedrenja je jedrenje u vetar. sad kako je to moguce? Naime, jedro ima slican oblik i ponasa se kao krilo aviona, blago je savijeno u parabolu.




  Uzmimo dve paralelne cestice vazduha koje kada naidju na nase jedro, jedna krene po spoljasnjoj strani jedra, dok druga ide kracim putem, po unutrasnjoj. Zbog specificnog oblika jedra a da bi stigla na zadnji rub jedra u isto vreme sa svojom paralelnom cesticom, spoljasnja cestica ce se brze kretati od unutrasnje, praveci tako polje nizeg pritiska sa spoljne strane jedra. Po zakonu fizike, gde imate razlicite pritiske sa dve strane nekog objekta, on pocinje da se krece u pravcu polja nizeg pritiska i to je jedini razlog zasto jedro moze da sluzi kao pogon dok imate vetar u pramac ili bok. Podesavanjem ugla jedra prema vetru dobijamo vecu ili manju brzinu droda (to nam je gas). Kada je vetar krmeni, tada vetar gura jedro i gledamo da sto vise zaoblimo jedro da tako da sto vise zahvata vetar, sto je ujedno i najlosije jedrenje.




 Kada nasem, sada razumljivom jedru dodamo jos jedno tada se stvara kanal izmedju jedara, dolazi do veceg smanjenja pritiska na prednjem rubu novog jedra i brod dobija veci poriv.





Sada kada znamo kako to sve funcionise, mozemo da kazemo

STA NAM JE BITNO NA BRODU

Sve…i jedra i konopi, sidro, pivo, vino…
Medjutim, osnovne stvari koje treba da znamo a bez kojih nemozemo jedriti su

KONOPI…sem standardinh konopa za vezove i sidro, bitni su nam podigaci (konopi koji sluze da podignemo jedro) i skote (konopi kojima trimujemo jedro, podesavamo ugao jedra prema vetru i oblik.

JEDRA…postoji glavno jedro (ono nase drugo, koje smo dodali)




i vise tipova prednjeg jedra u zavisnosti od jacine vetra.



 
Glavno jedro je uvek isto s tim sto ima mogucnost da se krati, tj. smanjuje mu se povrsina ukoliko je vetar prejak.
Prednje jedro ima vise varijanti ali za nas su sad najbitnije dve FLOK I GENOA (postoje Genoa 1, Genoa 2, Genoa 3 (flok), flok 4, spinaker…)




 u principu razlika je u povrsini jedara, jedino se spinnaker razlikuje po obliku, nacinu israde, rada sa njim…vec duze vreme postoje tvz rol jedra , gde jedno prednje jedro zamenjuje sva prednja u zavisnosti koliko je odmotano sto mnogo olaksava stvari. Problem je sto uvek imate istu debljinu materijala i sto nekad, (retko ali ipak …) bas kad ne treba moze da se desi da mehanizam zaglavi.

OSTALI BITNI DELOVI BRODA




Jarbol (katarka) - svi znamo sta je
Bum - drzi donju stranu glavnog jedra, zna da opomene nepazljivog jedrilicara (valjda se zato tako zove)
Kobilica (kolomba) - "teg" na dnu broda, jedrilica uvek ima pozitivan stabilitet
Skeg - nosac kormila
Kormilo - ko ne zna sta je, ne treba ni da plovi
Krst jarbola - neki zovu kriz
Pripone - sajle koje idu sa vrha jarbola, preko krta do ivica bokova, drze poziciju jarbola
Prednje leto - forestay, sajla od vrha jarbola do pramca, prednje rub prednjeg jedra klizi po njemu
Zadnje leto - krmeno leto, backstay, vanta, zaputa…sajla sa vrha jarbola do krme
Gondolijer - konop sa vrha jarbola do jedne strane buma, podesava se bum
Vitlo - vinc, namotavanje i pritezanje konopa, skota i podizaca